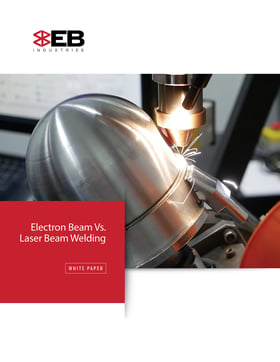 Electron Beam Welding and Laser Beam Welding both produce top quality precision welds. But which process is right for your application?
Which works best with the metals you're joining?

Which process can meet your part's geometry requirements?

Which aligns with your industry's specifications?

Which is most cost effective and fits your production timeline?
We have six decades of experience solving our customers' welding challenges, and we've put that experience into a white paper to help you choose what's optimum for your project.
We cover the advantages and disadvantages of each process in depth, explain the ramifications behind the technology, and lay out the information you need to make smart decisions.
A high quality, reliable part is the result of analysis and ingenuity. We can help you with both. Download our Electron Beam Vs. Laser Beam Welding white paper now!